The United Nations recently reported that on 11 May 2019 approximately 180 governments made three key decisions to help protect the health of the environment and humans from the harmful effects of hazardous chemicals and waste.
Decision #1: Reduction in plastic waste
Plastic waste is one of the world's most pressing environmental problems. The United Nations estimates around 100 million tonnes of plastic is now found in the oceans, 80-90% of which comes from land-based sources.
The Basel Convention on the Control of Transboundary Movements of Hazardous Wastes and Their Disposal is an international treaty which aims to:
minimize the amount of hazardous waste generated
assist in managing waste in an environmentally sound manner
minimize the movement of hazardous waste between countries and in particular from more developed countries to less developed countries
On 11 May 2019, plastic waste was included as a waste that is now subject to regulation by the Basel Convention.
As a result:
the global trade in plastic waste will be better regulated and more transparent
the management of plastic waste will be safer for the health of the humans and the environment
To support and assist in implementing this ground-breaking agreement, a new Partnership on Plastic Waste was established to mobilise resources and expertise around the globe.
Decision #2: Elimination of hazardous chemicals
The Stockholm Convention on Persistent Organic Pollutants is an international treaty which aims to restrict or eliminate persistent organic pollutants.
On 11 May 2019, two toxic chemical groups Dicofol and Perfluorooctanoic Acid were included in the Annex A list of chemicals to be eliminated from production and use.
These two groups of chemicals add up to around 4,000 chemicals.
Perfluorooctanoic Acid can be found in various domestic and industrial uses such as non-stick cookware, food processing equipment, food packaging and as a surfactant in textiles, carpets, paper, paints and fire-fighting foams.
Dicofol is used as a miticide on a variety of field crops, fruits, vegetables, ornamentals, tea and coffee.
Decision #3: Restriction on chemical imports
The Rotterdam Convention is treaty which seeks manage the import of hazardous chemicals in an environmentally sound manner. It calls on exporters to:
use proper labelling
include directions on safe handling
inform purchases of any known restrictions
Signatories to the convention may also ban the import of listed chemicals.
On 11 May 2019, the pesticide phorate and industrial chemical hexabromocyclododecane were added to the Annex III list of chemicals which are subject to the Prior Informed Consent Procedure.
As such signatory countries decide on the future imports of these chemicals.
What does this mean for you and your business?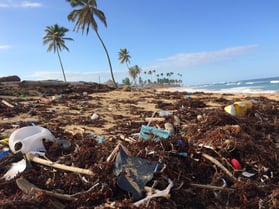 Signatories to the Basel, Stockholm and Rotterdam conventions include many countries such as Argentina, Australia, Botswana, Canada, Germany, India, Kenya, Mozambique, Nigeria, South Africa, Turkey, United Kingdom, Zambia...the list goes on!
Changes to the national legislation of such signatory countries can be expected in the near future as governments amend their legislation in line with the agreements outlined above.
Such legislative changes can have far reaching consequences for your business. It is therefore vital to keep well informed so that you can prepare and align your business operations accordingly.
How Libryo can help keep you up-to-date with these changes?
Keeping abreast of such legislative changes can be an administrative and time-consuming burden. Libryo's solution does this for you. Through our cutting-edge legal technology, organisations globally are empowered to know, for sure, at any given point in time, what they are required to do by law, in order to operate legally and sustainably.
Libryo's legal registers are always up-to-date on the platform, notifying you whenever your applicable legal regulations change. With Libryo, you can rest assured you'll be on the front foot and in the know.
To keep on top of legislation changes and updates, find out more about the Libryo solution.