Why are there so many variations for the same set of responsibilities? In this blog we'll break it down by letter, department, role and region to uncover where the differences are, and what they all have in common.
First let's break it down by letter
EHS, HSE and SHE all mean the same thing. They all focus on Environmental, Health and Safety management for the organization. Things like hazard identification and waste management, accident and injury prevention and environmental compliance.
Health and Safety can actually be viewed as a single element (and quite often you'll see this with the use of an ampersand symbol) as both disciplines encompass the same procedures, legislation and processes an organization needs to adhere to e.g. ISO 45001.
Environmental management addresses the development, implementation and monitoring of environmental strategies that promote sustainability, as well as complying with ISO 14001 standards.
So, what about OHS, HSSE and SHEQ? These acronyms introduce a few additional areas of responsibility: Occupational, Security and Quality. And there's more that we haven't mentioned here...
Department and role focus
Some organizations may prioritize one of the EHS areas above over the others, therefore leading with that letter for the department or role responsible. Ultimately though, the wider objectives remain the same. Whether you are an EHS or an HSE Manager, you'll still be responsible for overseeing and maintaining the environmental, health and safety programs that your company implements.
Other roles will encompass more than EHS management, such as HSSE which also focuses on the Security aspects of the company and the likes of ISO 27001. Or a SHEQ Manager, who will also be responsible for maintaining the Quality assurance requirements (ISO 9001) alongside the EHS areas of the business. And the role of an OHS Manager will implement and manage Occupational programs such as safety inspections, assisting in workplace investigations and monitoring the job safety of workers, leaving any Environmental responsibilities to another area of the business.
Regional differences
Quite often, regions will tend to have a more common acronym, and sometimes it's preferred due to other bodies or governmental departments coining the term for something else. Such as in the UK where HSE could also be the Governmental Department called Health & Safety Executive.
Here's a breakdown of preference based on Google Trends over the past 12 months, but it's important to mention that there is no worldwide consensus on which acronym is correct and should be used. It simply comes down to preference.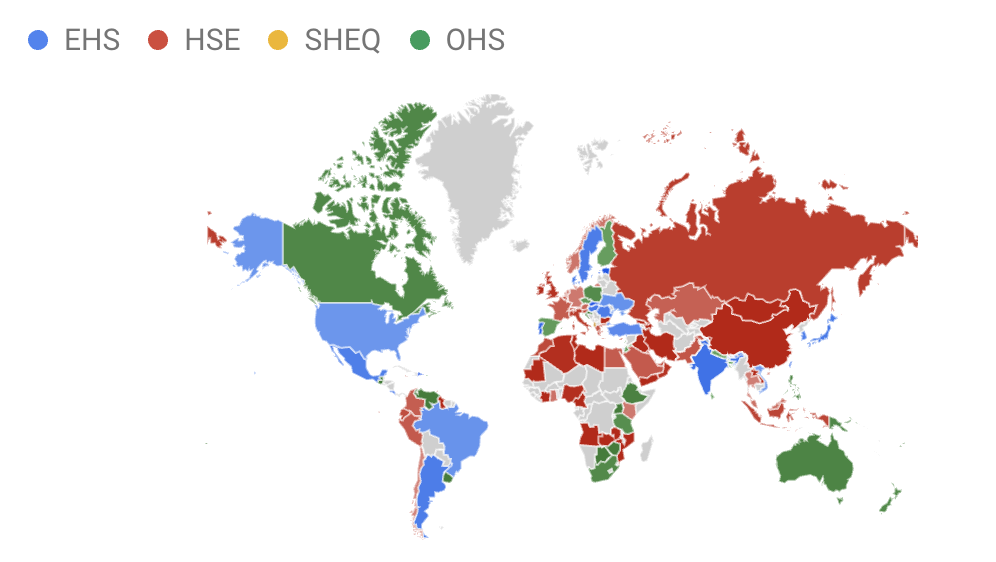 What do they all have in common?
It's clear that Health and Safety is of paramount importance for any organization, you'll notice it appears in all of the acronyms above. Ensuring a safe place to work with minimal risk and accidents shouldn't come as any surprise, after all people are a business's most valuable asset. And having roles like an EHS Manager in place to implement and maintain these standards, as well as a system to manage and understand your compliance is key.
Following swiftly behind is the letter E for environmental. Customers, colleagues, investors and partners all have growing expectations for organizations to run responsible operations that enable more sustainable ways of working and reduce the impact to the natural environment. While this isn't applicable for an OHS role, that doesn't mean it's not an objective for the company. It could just mean that there is a standalone sustainability department and environmental-specific roles separate from the Health and Safety Managers duties.
Know, understand and assure your compliance
No matter the structure of the departments and focus of the roles above, they all need to know their legal requirements and manage their compliance on a daily basis. That's where software such as Libryo can help. A unified platform that enables legal, risk and compliance teams to manage all of the above with ease, at scale and in seconds.
Download our Environmental, Health & Safety (EHS) checklist, aligned with ISO 14001.