Unlocking EHS+ESG Synergy: Digital technology drives the integration of EHS and ESG, optimizing frameworks, streamlining reporting and enhancing stakeholder engagement for a brighter, sustainable future.
The Winning Combination of EHS+ESG
ESG (Environmental, Social, and Governance) and EHS (Environment, Health, and Safety) represent an influential partnership that goes beyond rhetoric and delivers tangible results. This powerful convergence not only fosters sustainable practices but also enhances overall corporate performance, making it a vital driving force for positive change in today's business landscape. As evidenced by a recent study from MSCI, companies with higher ESG ratings demonstrate lower environmental risks, benefiting crucial EHS metrics such as carbon emissions, water usage and waste generation.
The findings from the study indicate that companies with higher ESG Ratings demonstrate lower stock-specific risk than their peers. This correlation highlights how effective management of ESG risks, including crucial environmental factors like climate change and environmental regulation, as well as social factors such as labor management, can result in lower risk, aiding key EHS metrics. This demonstrates the clear correlation between responsible corporate governance, sustainable practices and improved environmental outcomes.
The Empowering Force of Digital Technology
In today's dynamic world, digital technology serves as the driving force behind the remarkable evolution of the ESG mission. It provides unprecedented opportunities to optimize ESG and EHS frameworks and elevate the impact of sustainability efforts. Digital innovations enable organizations to:
Leverage Data Analytics: Sophisticated data analytics enable companies to gather and analyze vast amounts of environmental and social data, supporting informed decision-making and effective resource management.
Utilize AI-driven Solutions: AI-driven sustainability solutions identify patterns, predict risks and recommend sustainable practices, leading to reduced environmental footprints and improved operational efficiency.
Streamline Sustainability Reporting: Digital tools streamline sustainability reporting, making it easier for companies to measure, track and communicate their progress transparently.
Enhance Stakeholder Engagement: Digital platforms facilitate stakeholder engagement, fostering a culture of transparency and accountability, consequently encouraging collective action towards positive change.
By embracing the transformative power of digital technology and integrating it into ESG and EHS practices, businesses can unlock new levels of impact and drive positive change in our world.
Embracing a Sustainable Future with ESG and EHS
A strategic step for businesses is to align with an ESG framework and standards such as those set forth by the Global Reporting Initiative (GRI) or ISO while leveraging digital tools. This convergence of ESG, EHS and digital technology presents a transformative opportunity to drive positive change and sustainability in the corporate world.
Some emerging examples include:
The recent approach of a "recovery time" metric transcends conventional work absence measurements.
Considering worker health, well-being and retention. This approach offers profound insights into the bottom-line implications of your actions.
Prioritizing EHS and aligning with ESG becomes not just a choice, but a necessity as workplace injuries and illnesses account for over $250 billion in annual costs.
Digital technology accelerates ESG initiatives providing unprecedented opportunities to:
Optimize ESG and EHS frameworks.
Elevate the impact of sustainability efforts.
Utilize data analytics and AI-driven sustainability solutions to measure, track, and communicate sustainability progress seamlessly.
By combining strategic planning, technological advancements and responsible corporate practices, companies can drive sustainable business growth while contributing to global ESG goals. The comprehensive assessment of ESG and EHS key issues involves quantitative and qualitative indicators, reflecting the company's capacity to effectively manage these risks.
Driving EHS+ESG Synergy with ERM Libryo

As a leading player in the EHS regulatory compliance space, ERM Libryo plays a crucial role in driving the synergy between ESG and EHS. Our cutting-edge compliance platform empowers organizations to navigate their environmental, health and safety regulatory requirements with ease and efficiency.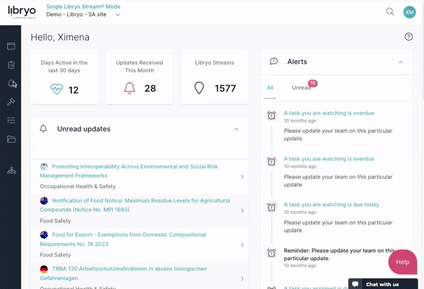 This compliance management software is ideal for:
Streamlined Compliance: Our platform simplifies EHS regulations, supporting compliance with environmental and safety requirements.
Continuous tracking for EHS legal updates: ERM Libryo continuously monitors EHS and ESG legislation from the source, providing up-to-date platform and email notifications for any relevant changes.
A comprehensive view of risk and compliance status: Access an overview of your current risk level and compliance status, ensuring alignment with EHS regulations. Prioritize areas of non-compliance for proactive action.

Centralized documentation access and storage: Store your compliance related documents securely for convenient access and reference, facilitating compliance with EHS regulations Collaborate with teammates by tagging them and documenting compliance actions.
You might also like to watch this talk on ESG Meets EHS, Now What?
Interested in discovering how Libryo can empower your business? Schedule a demo with us and let's unlock the endless possibilities.