It's safe to say that nobody at Libryo thought 2020 would pan out the way that it has! 2020 has been tough and testing, but we are delighted to share our LegalTech Breakthrough award with everyone.
Libryo: Overall LegalTech Innovation of the Year
Libryo's regulatory tracking and compliance management software impressed the judging panel and we bagged ourselves an award for 'Overall LegalTech Innovation of the Year'.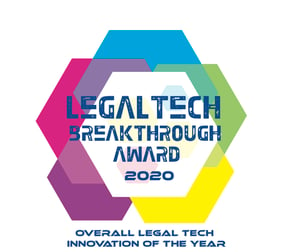 What a fantastic way to round off what's been a very challenging and humbling year for everyone.
The LegalTech Breakthrough Awards recognise the top technology companies, solutions and products in the legal technology industry today. They aim to perform the most comprehensive evaluation of LegalTech tools, services and companies today, with the goal of acknowledging the BREAK THROUGH solutions - and Libryo is thrilled to be one of them!
While many of us are probably relieved to see that end of 2020 and welcome the thought of a fresh new year, we're very proud of the company's achievements this year. Despite having a conservative team and each making many personal sacrifices, we accomplished a mammoth amount of work, and even launched a free version of Libryo to help other organisations track new COVID-19 related regulation.
On behalf of everyone at Libryo, we're very grateful for the support we've been shown by our partners, suppliers and investors over the last few years. And we're excited to see what faces us in 2021!
------------
Check out our other awards and achievements here.