Last week, I had the privilege of accompanying a colleague on an audit for one of our customers in the mining industry. I was reminded of how central mining is to South Africa's identity and how it has influenced the social, economic and political landscape throughout the years. Globally, it is also one of the most heavily regulated industries due to the danger closely associated to it.
When we arrived, it felt as if we were in the middle of nowhere. The mining complex was the only sign of life for kilometers around – understandable when you notice just how much space is needed to operate a mining business. Mining operations are often massive and complicated infrastructures. When it comes to the investigative component of an audit, it allows one to truly understand the gravity of what is taking place on site.
The intangible landscape of the law
This particular customer had three separate sites focusing on three different processes. The complexity of everything that took place on these sites gave rise to a genuine frustration. The basic day to day operations of the mine itself are all physical, tangible. Yet everything at each of the three sites is regulated by an intangible entity: the law.
So, the frustration comes in here: how is someone expected to invest their time and effort on the demanding day to day aspects of the site, yet at the same time keep tabs on everything changing behind the scenes, the intangible landscape of law? Law that influences the health and safety of these workers. Law that influences the protection, management and rehabilitation of the environment and its resources, both on and around the site. This is very stressful for compliance and risk managers - and not just those working for mining companies. Ensuring compliance with the law is a very complicated, time consuming task; all the more if you have multiple sites, locally or internationally.
Overcoming legal complexity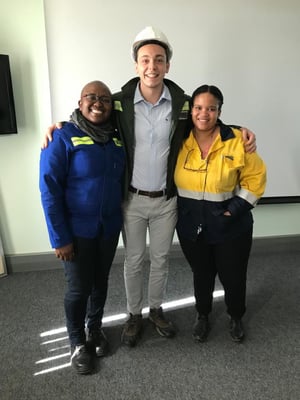 There was a genuine sense of appreciation for Libryo at this point. The primary aim of our platform is to simplify all of these complications, giving businesses peace of mind. Libryo's regulatory technology mitigates the frustration of trying to track the law, understand it, and figure out whether or not legal changes will influence a sites operation. Furthermore, the capabilities of the platform allow for these features to cover various legal domains, jurisdictions and international boundaries. They are customisable to a specific site and its operations, and with our new self-assessment tool, allows for a general overview of each site's compliance.
In retrospect, it was incredibly encouraging to see this appreciation for our platform; seeing Libryo make a real difference in helping to lighten the load off of our customers and play its part in contributing to sustainable business practices. One important way that we are able to do this is from the regular feedback we receive from our customers. We have a desire to understand the needs of our customers and see that the Libryo platform and its services evolve to match these requirements.
Learn more about creating custom legal registers for every jurisdiction.