Various initiatives and incentives have transformed the energy landscape, opening doors for new build generation and for larger, established pan-European and global companies to invest in smaller, renewable sources of electricity. Such changes, aimed to bring rapid transformation to a historically cautious sector have, by necessity, resulted in increased complexity within the regulatory landscape, both at a commercial and operating level for businesses.
The energy trilemma
Within this changing landscape, a focus on security of supply is a crucial aspect of the energy trilemma for the UK government. The Capacity Market (CM) auctions were introduced in 2014 to address this.
The first auction in 2016/17 resulted in 57 contract awards. Fast forward to 2019 and the Summer auction saw 129 units awarded contracts, with reciprocal engine generators taking the largest share, and nearly 60 per cent of reciprocal contracts awarded to new builds.
Within Capacity Market rules, existing sites are awarded one-year auction contracts, whereas new builds get four-year contracts in recognition of the investment made. Investors, large pan-European and even global energy businesses identified the UK capacity market as an opportunity for business growth and so established new build sites in the UK, or even set up new holding companies in-line with CM rules to maximise their proposition.
The construction boom
These changes created a boom in the construction and commissioning of numerous new energy generation sites. However, with the rapid growth of sites – 26 new builds clearing in this summer's auction alone - businesses may have failed to fully evaluate the environmental impact and health and safety regulations required to safely and efficiently commission and run the site, which could result in substantial fines, prosecution and even the shutdown of the generation site altogether.
Decentralised power generation
Decentralised power generation has added further complexity to an already stringently legislated industry, with various nuances relating to specific methods of generation or even whether the site is new or existing. For businesses trying to create environmentally responsible power generation, it is vital that the development, operation and final decommissioning of the sites themselves do not offset the positive impact that the business is trying to have on the environment.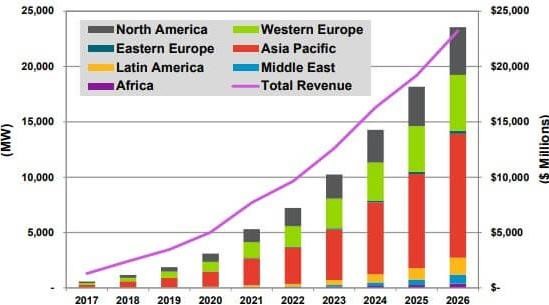 The Navigant Research image above shows global distributed solar PV plus battery storage capacity (MW) and vendor revenue: 2017-2026 - smartcitiesworld
Ensuring adherence in this decentralised asset operating environment is further complicated by the growing geographical location of owners. By definition, decentralised energy is small and well-spread, and different jurisdictions have different rules and regulations. Monitoring the changes to the UK and international initiatives to ensure a business is working within these parameters – and generating and operating in the correct way – can easily become a full-time job and one that requires a myriad of skills and experience; legislative, compliance, energy and legal.
Regulatory and compliance tracking technology
Libryo has been working with a leading renewable energy business specialising in the integration of photovoltaic systems to help them overcome these challenges. Rather than trying to track and manage the various laws for its locations in Argentina, Egypt and South Africa using Microsoft Excel spreadsheets, Libryo's regulatory and compliance tracking technology enabled the business to obtain tailored information at operational level with the click of a button.
As the energy industry increases in complexity, it's clear that there's a growing global legislative problem that needs to be addressed. However, technology can and must be leveraged to help businesses work more efficiently and trust that all areas of compliance and legislation is adhered to as we move towards more sustainable business models.
We must not let the regulatory challenges deter the good intentions of the businesses within the power industry. If you're an energy supplier, click hereto learn more about how Libryo can help your business.
------------
Download this Environmental, Health & Safety (EHS) checklist, aligned with ISO 14001 to gauge your legal compliance status.
Read this blog next: Tackling environmental compliance in a decentralised energy market