Libryo is thrilled to announce our recent award for Best LegalTech Solution by the Greater London Enterprise Awards 2020.
Libryo: Best LegalTech Solution
The award body recognises small and medium sized businesses in the heart of the UK, whose efforts have yielded top-class products and services for the diverse clientele found across the capital.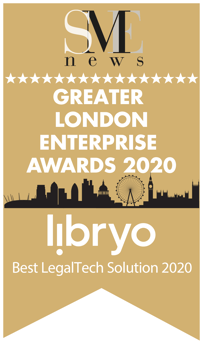 The Greater London Enterprise Awards are judged purely on a merit and quality, rewarding parties based on their reputation, commitment, innovation, determination and contribution to society.
Libryo's unique regulatory software and compliance management capabilities captivated the judging panel and the award stands as "testament to our excellence, commitment and dedication".
2020 was a challenging year to say the least, but the New Year means new ambitions for us as a legaltech company and the legal industry on the whole. Watch this space!
------------
Check out our other awards and achievements here.