The world of regtech is expanding fast, so here's a quick guide to help you navigate your way through the different services and innovative tools available.
1. What is regtech?
Regtech is the combination of regulation and technology tools developed to help organisations manage and facilitate compliance in a more efficient manner.
While the term and idea of regtech has taken a little longer to catch than its sister term 'legaltech', investment has ramped up and the industry has begun maturing.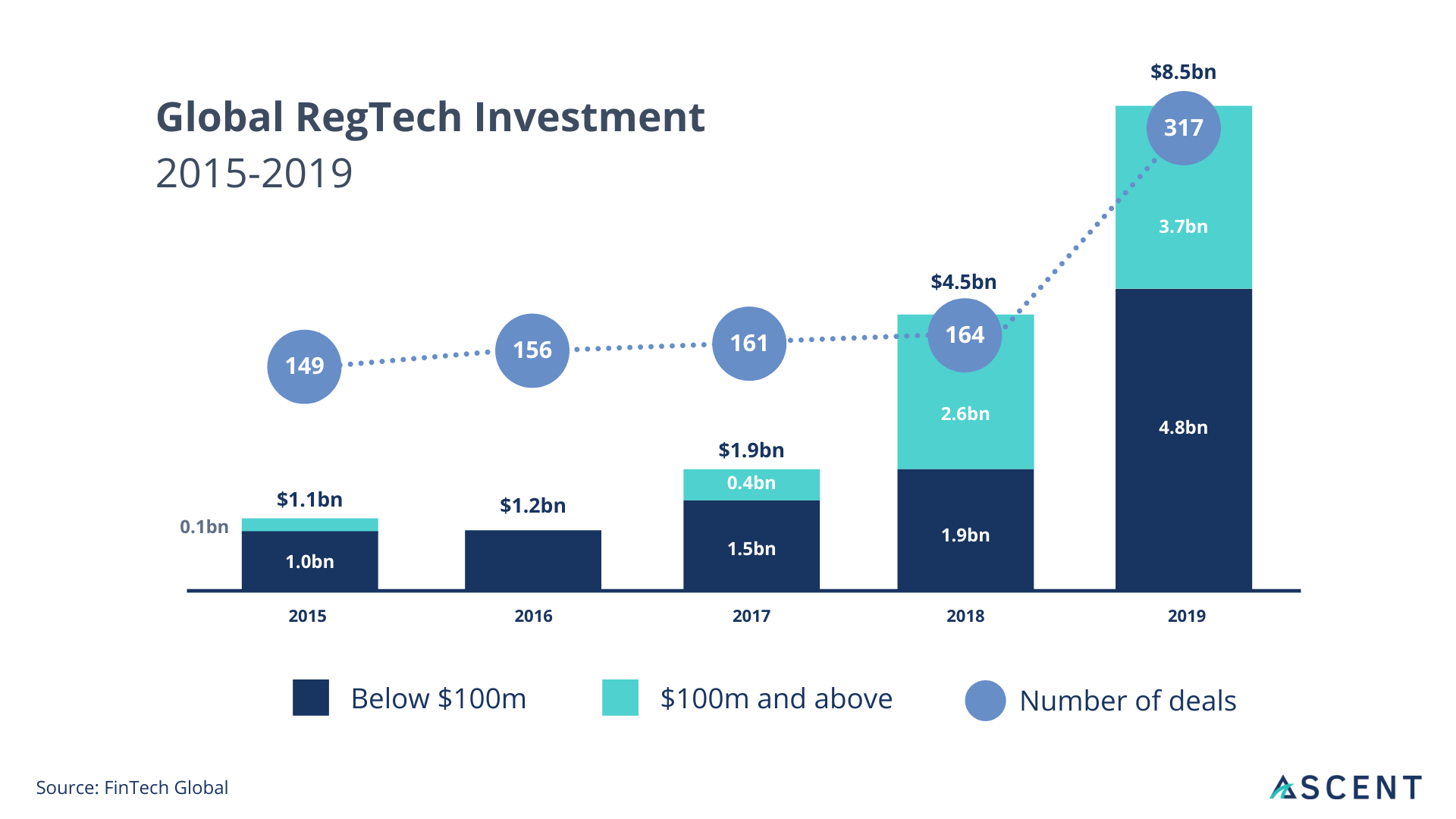 https://www.ascentregtech.com/wp-content/uploads/2020/11/Global-RegTech-Investment.png
It's common to see regtech mentioned specifically for the financial industry, however regtech isn't just applicable to financial institutions and services. Every sector has it own rules and regulations to monitor and comply with.
2. The regtech landscape
Regtech has been profiled by top research firms like Forrester, Gartner, CB Insights as it's grown over time. The regtech landscape is now vast, so here are 3 main categories to help you find your way around.
1.Regulatory Tracking
Tools that monitor and update the raw legal content (the legislation, rules and regulations) published from its source, e.g. regulators or governments. These regtech solutions normally configure this data as a content library, regulatory feed or display this information in a resource center to make it easy to see your legal requirements.
2. Regulatory Requirements
Solutions that go a step further than compiling and tracking raw legal content. These regtech tools provide the user with knowledge about the regulation in relation to their organisation, as well as the means to action it. For instance, filtering a specific section of law, a highlight of the requirement or the consequences that come with non-compliance.
3. Compliance Management
The final regtech piece to the puzzle is compliance. Technologies that incorporate workflows and compliance related information specific to your business activities. These platforms enable users to track or assess their current compliance and manage their steps towards achieving compliance.
Libryo is actually a regtech tool built to address all 3 of these areas above, but for now we'll focus more on the regulatory tracking aspect below.
3.The power of regulatory tracking technology
The pace of regulatory change is increasing across all legal categories (financial, employment, health & safety, environmental, data security etc.) and keeping up with these changes is time-consuming, even for legal and compliance professionals. The moment you begin to multiply this effort across different operational sites, jurisdictions and languages - it quickly becomes a mammoth task to manage and know your specific legal obligations.
Libryo has seen this first-hand just this year in relation to the Coronavirus pandemic. Over the past 9 months Libryo's COVID-19 Regulation Tracker followed thousands of legal updates on dozens of sources in relation to Coronavirus. Across the 18 countries, we tracked hundreds of regulations that could have implications for subscribers to the solution.
According to Thomson Reuters' 2018 Cost of Compliance Report, rule changes increased 500% over the last decade, with a new regulatory update implemented every 7 minutes!
Regulatory tracking tools help businesses overcome these challenges by:
Providing efficiency gains

Minimising organisational risk

Preventing human error

Making it easy to cross-compare the law across multiple jurisdictions

Being better prepared for audits

Facilitating good team alignment and collaboration
4. How Libryo's regulatory tracking works
The world of law is complicated and always changing. Each part of your operations face obligations from a unique collection of regulatory texts. Which texts you require to answer the legal questions depend on a number of factors such as jurisdictions and operational activities.
Libryo uses unique regulatory tracking technology to capture your organisation's applicable laws and track them for updates. We have developed technology and processes which monitor sources of global regulation (super national through to hyper-local) for change. Our technologies include scrapers and transformers, which convert regulatory text into a uniform, cross comparable and self-describing dataset, in the proprietary LibryoXML format. Processes are overseen by Libryo's expert digital legal engineers and are constantly advancing Libryo's enrichment of the LegalXML and its record of semantic meaning captured in a knowledge graph which is linked to the LibryoXML. Libryo's Turk (micro-jobbing) programme is also leveraged to further enrich the metadata that is linked to the LibryoXML and provide value-added content useful to Libryo's customers. NLP and Machine Learning (so called "AI") technologies are also leveraged to augment the work of Libryo's Legal Engineers and Turks.
Step 1. Creating collections of law
Libryo's legal experts source and create the collections of laws that are applicable to your operations at a site-specific level. These are called your Libryo Streams. Each Libryo Stream uses unique regulatory tracking technology to help keep you updated whenever a law changes.
Step 2. Standardised, automated regulatory texts
The regtech platform transforms these collections of laws into a globally standardised, machine readable format which can be automatically updated.
Step 3. Simply presented and summarised
Each Libryo Stream is translated into multiple languages and simplified for fast and easy interpretation. This means you don't have to be a legal expert to know how to comply with the law. Legal highlights can be provided to you through the Libryo Platform or a third-party application.
Step 4. Automatic legal updates and notifications
Whenever your legal requirements change, you and your team will be automatically notified of the update in the platform and via email to help keep you on the front foot, always.
Learn more about how Libryo's regulatory tracking has helped other companies stay on the compliance front foot.