Governments are setting new standards, better practices and higher measures more than ever in the Fast Moving Consumer Goods (FMCG) industry as public health, environmental, sustainability and societal concerns increase. This is creating a mammoth task for legal, risk and compliance professionals to keep informed and compliant with their latest applicable law.
Regulations themselves can cover a wide range of business activities from shipping processes to handling raw materials, packaging and labelling. With such high penalties at stake, the potential risk of recall, as well as the impact this could have on the company's brand and manufacturing, consumer goods organizations simply cannot afford to have any issues in those areas. This makes it paramount for consumer goods companies to closely monitor and comply with the ever-changing volume of regulations.
Covid-19 has contributed to even more regulatory pressures. The pandemic alone has created a mountain of standards and paperwork that need to be handled diligently by each company. And this all becomes progressively more difficult when it comes to larger organizations that span globally. Some companies may opt for a mix of software solutions such as Microsoft Excel, Word or Google docs. But with the ever changing demands for regulatory compliance, many companies are finding that these applications are no longer appropriate for their innovation and development goals. According to a recent study carried out by Veeva, 57% of regulatory affairs professionals reported that accelerating digital transformation is a key priority for 2021.
So, knowing the law that applies to your business and keeping on top of the frequent regulatory changes can be difficult, time consuming and somewhat costly. The good news is Libryo has 3 convenient tools to make managing your legal obligations quick and easy.
1. Customized legal registers configured for individual operations
To help establish which specific laws apply to your site (warehouse, factory, store etc.), Libryo will help solve the problem of identifying the law that applies to your business. Providing you with a bespoke legal register identifying your exact legal requirements and standards. And to make things even quicker to interpret, the platform also provides short summaries of what the sections require you to do and translations for global teams.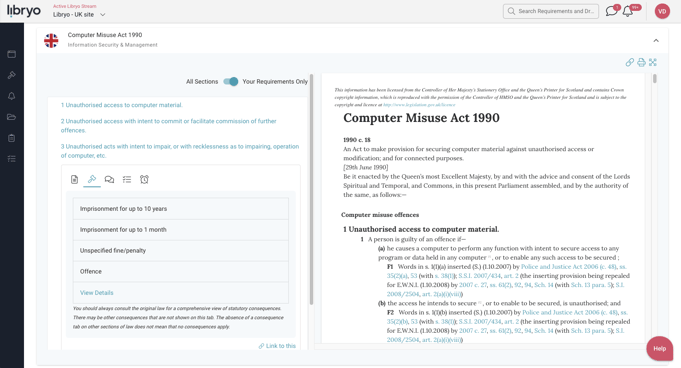 2.

Stay in the loop with legal update notifications
With the ever-changing regulations in the FMCG space, it's key to stay on top of the changes to your legislative requirements to avoid any risk to the business. Doing this manually takes up a lot of time, is not cost-effective and heightens the risk of missing important legal updates, especially if you are using multiple resources for multiple jurisdictions.
With Libryo's unique and intuitive tracking system, you will be automatically notified via email of any legislative changes that are relevant to your business. Extra collaborative features such as creating tasks and storing important documents help to evidence your compliance, so this no longer becomes a manual, time-consuming task - allowing individuals to be on the front foot with their compliance.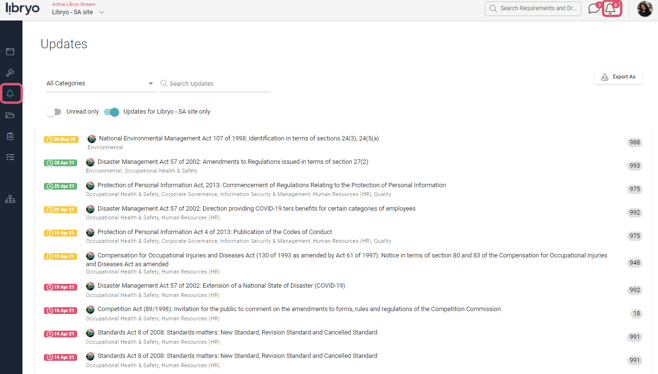 3. Compliance confidence across multiple sites
Know your law, at any given time, in every jurisdiction. Libryo's platform filters and tracks site-specific regulations across all of your company's locations. This makes it simpler for individuals to be aware of their regulatory requirements and changes that could potentially impact their operation, as well as the wider business. Senior management can track the organisation's overall risk and compliance status - all within a single system. Perfect for global organisations with multi-site operations.
Learn how Libryo helps FMCG companies better navigate legal compliance.
Download our Environmental, Health & Safety (EHS) checklist, aligned with ISO 14001.